Duck Valley Fishing Report
December 4, 2023
EFFECTIVE FEBRUARY 27, 2021, RESERVOIRS WILL OPEN

 FISHING / CAMPING PERMITS ARE AVAILABLE AT THE OWYHEE ACE HARDWARE STORE ONLY
THEY ARE NOT AVAILABLE  IN "OUR STORE"
NOTE: The Annual Family Permit only includes "[a] spouse, guardian and children under the age of 18," according to the Shoshone-Paiute Tribes' Fish & Game Ordinance.  
General
Warmer southern Idaho weather has last week's quick-freeze defrosting throughout the valley, where snow accumulation of approximately five inches has rescinded by at least two, and the valley floor is now covered in a combination of ice, mud and slush, in no particular order.  Blue skies, lots of sun, and warm weather make the beginning of the week the ideal days for trout activity in all the reservoirs, as trout tend to favor warmer weather during the winter cold.  Heavy precipitation and freezing temperatures in the forecast beginning Wednesday, December 6, 2023.  All previously open surface water has iced over, and ice thickness along shorelines is up to 3.5 inches in varied areas.  Some anglers are finding areas in Sheep Creek a bit slow due to the presence of algae on the west end near the dam, the algae is expected to clear up with the seasonal temperature drop, and has rescinded somewhat to date.
An important note for anglers:
If you catch a fish with a tag, shown below, please report the tag number, reservoir fish was caught, length of fish, if the fish was kept or released and angling gear used to This email address is being protected from spambots. You need JavaScript enabled to view it., or call (208) 759-3246. This information will help us continue to make Duck Valley fishing a memorable experience.
Vendor Information
The Owyhee ACE Hardware has a nice selection of fishing gear and worms. They are also the only vendor who can sell (or reserve) camping spots for the powered sites at Mountain View Campground (775-757-2305).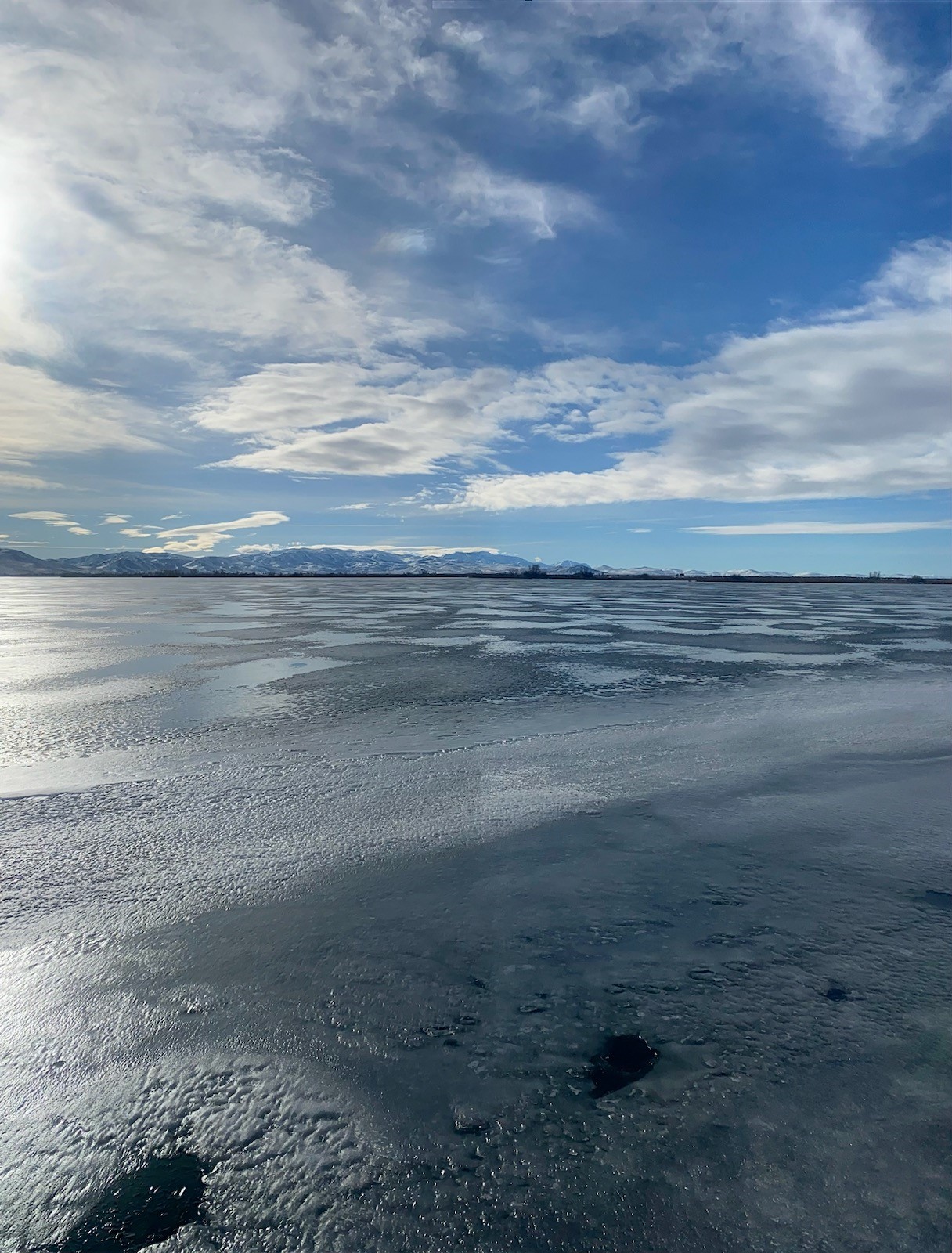 ACE HARDWARE STORE HOURS                                     
8:00am-6:00pm WEEK DAYS
8:00am-4:00pm SATURDAYS
SUNDAY CLOSED
OUR STORE HOURS
7:30am-7:00pm WEEK DAYS
8:00am-7:00pm SATURDAYS AND SUNDAYS
The Tribal Grocery Store (i.e., Our Store) only sells fishing and camping licenses when the Owyhee ACE Hardware store is closed. The Owyhee ACE Hardware also has a nice selection of fishing gear and worms. They are also the only vendor who can sell (or reserve) camping spots for the powered sites at Mountain View Campground (775-757-2305).

If you decide to come to the reservation of the Shoshone-Paiute Tribes to fish, please contact the Shoshone-Paiute Tribes Fish, Wildlife, & Parks Department to make all arrangements. Anglers are asked to report all efforts and success; Information on size, catch rate, and amount of time spent here is helpful when developing management plans for the reservoirs. Pictures of happy anglers and their catch
are always welcome and will be displayed on an appropriate mantle of honor for all to behold.

Angler Success
All reservoirs are showing a moderate fishing response, with this week's warmer winter temperatures suggesting an increase in trout activity.  Trout tend to favor warmer daytime temperatures for feeding.  Water clarity suggests anglers stick to clear water colors (earth tones), and cloudy colors, (earth tones with flash) as darker lures are more visible to trout in subsurface depth winter water zones.  Try dark hues like olive, dark brown, and black as trout tend to spend more time closer to the bottom during colder weather and have been known to favor subsurface nymphs.  Anglers have reported great deal of success with nymphs and standard elk hair caddis flies.  Bait casters have been successful with sparkling dark green Texas rigged gummies, and a wide variety of reflective lures over swimbaits. Shore casters can count on landing fish with a variety of bright, neon Power Baits, juicy, fat nightcrawlers, and marshmallows, where scent attractants definitely increase odds.

Weather
The average temperature for the week is at a high of 39 and a low of 25 degrees.  Monday through Wednesday right around the mid 40's high, and for a 30 low. Tuesday to be the hottest day of the week around 50 degrees. Warmer temperatures for a partly cloudy week opener have last week's ice blast thawing faster than an eighty-six-pound Christmas turkey.  Snow and ice accumulation around the valley steadily decreasing until Wednesday, where a ninety percent chance of precipitation, and a ten degree temperature drop slams the valley with some cold air. Heavy snow showers on Wednesday, Thursday, and intermittently over the weekend, leaving behind an expected 2.2 inches of accumulated precipitation. Friday looks to be the coldest day this week at 29 high/12 low. Sunday with a mostly cloudy sky at a 39 high/25 low.  Wind averaging 10-15 mph Wednesday through Friday. Average sunrise time for the week is 7:55 am, sunset time is 5:13 MST.
For a more detailed forecast of weather conditions in Owyhee and the Duck Valley Indian Reservation, please click the Weather Underground link provided here.  https://www.wunderground.com/cgi-bin/findweather/hdfForecast?query=89832
 
Road Conditions

Reservoir access roads are open, muddy, and scattered about with patches of ice and slush.  Fishing access roads are snow and slush covered, with warmer temps producing a muddy top over frozen ground in exposed areas.  Winter driving conditions are advised.  Please follow all posted speed limits and use caution as weather permits.
Shoshone-Paiute Tribes
Fish, Wildlife & Parks Department
P.O. Box 219
Owyhee, NV 89832

Office: (208) 759-3246
Toll Free: (800) 761-9133
Fax: (208) 759-3248
Email: This email address is being protected from spambots. You need JavaScript enabled to view it.
http://www.shopaitribes.org/spfish