Fishing & Camping Rules and Regulations

UPDATE ON CURRENT REGULATIONS

Due to feedback from anglers, dry camping fees will be included with the purchase of an annual permit for the remainder of 2019

General
Fishing Areas

Fishing is allowed on all portions of the reservoirs except within 50 yards of the inlet canals.

Fishing Hours

Two hours before sunrise until one hour after sunset.
Seasons

Mountain View Reservoir

Open Year Round

Sheep Creek Reservoir

Open Year Round


Lake Billy Shaw

Open from April 1 to October 31

East Fork Owyhee River

Open from April 1 to October 31
Species / Harvest / Size Limits
Mountain View and Sheep Creek Reservoirs
Adults may harvest 5 Rainbow Trout per day with a possession limit not to exceed 10.  Children under the age of 14 are not required to purchase a license.  Children 14 and over are required to purchase a permit.  There are no size restrictions on Rainbow Trout at Mountain View or Sheep Creek Reservoirs.  Anglers may use only one pole, unless a two pole permit is purchased.  Single and treble hooks are allowed, with any artificial lure, fly, or natural bait.  Live bait is prohibited with the exception of earthworms.  No size or bag limits on Yellow Perch or Bass species.

Ice Fishing Sheep Creek and Mountain View Reservoirs
Angler may fish with up to 5 poles or tip ups in up to 5 holes with single pole permit.  Angler may not use more than 5 poles with or without a two pole permit.
Lake Billy Shaw
Open for fly fishing, with tackle restrictions limiting anglers to one fly rod, an artificial fly, and one dropper, consisting of natural and/or synthetic materials and barbless hooks.  Spincasting with one dropper and a single barbless hook, artificial fly, is allowed.  Only electric powered motor boats are allowed on Lake Billy Shaw.  Anglers may harvest one Rainbow Trout per day with a minimum of 16 inches but not to exceed 29 inches in length.  Any Rainbow Trout smaller or larger must be released, unharmed, back into the water.

East Fork Owyhee River
This fishery is restricted to fly fishing only; catch and release only.  All fish must be release, unharmed, back into the water.

*** There are no size or possession limits on Bass, Yellow Perch, and Chubs. ***
***  Please keep all fish of these species ***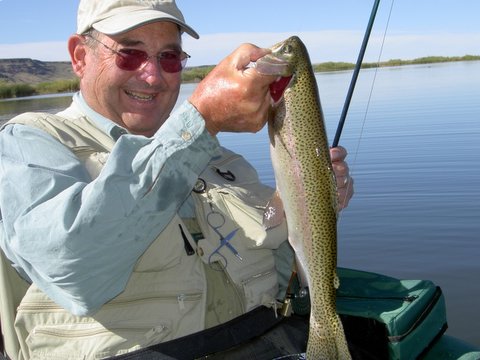 | | |
| --- | --- |
| Daily Fishing Permits / Rates |   |
| *All Fisheries (age 14 and up) | $18.00 |
| 2 Poles (Mountain View & Sheep Creek only) | $25.00 |
|   |   |
|   |   |
| Daily Camping Rates |   |
| Daily General Camping (non electrical) | $10.00 |
|   |   |
| Mountain View Electrical Sites | $15.00 |
| Mountain View Electrical Sites w/valid annual permit | $10.00 |
|   |   |
| **Annual Permits (Includes fishing and dry camping rates) |   |
| **Annual Permits begin January 1st and end December 31st |   |
| All Fisheries, Individual* | $100.00 |
| Mountain View/Sheep Creek, Individual with 2 poles | $130.00 |
| All Fisheries, Family* | $150.00 |
| Mountain View/Sheep Creek Family with 2 Poles | $170.00 |
*All Fisheries include: Mountain View, Sheep Creek, Lake Billy Shaw & the East Fork Owyhee River

*FAMILY (for the Annual Family Permit) is defined as parents and their minor children who are younger than 18 years old
Group Rates - To be determined by Fish, Wildlife & Parks staff with approval from the Tribal Administration
CAMPING
Dry Camping Daily Fees 
Most campsites are non-electrical, dry camping, and require a Daily General Camping Permit.  Dry camping fees are charged per camp vehicle, not by campsite.  Campsite fees can be purchased online. Please call Fish & Game for more information.
Power Camping Daily Fees
There are 18 identified camp sites at Mountain View Reservoir that have electrical power pedestals.  Only one camping vehicle is allowed per site (i.e. 5th wheel, motorhome, or cab-over camper).  Other non-camping vehicles are allowed at these sites
Electrical hookup camp sites can be reserved and paid online:  https://bookyoursite.com/
Campground Name: DUCK VALLEY INDIAN RESERVATION
"BY EXECUTION OF A TRIBAL HUNTING, FISHING, TRAPPING, AND CAMPING PERMIT THE APPLICANT ACKNOWLEDGES AND VOLUNTARILY CONSENTS TO CIVIL OR CRIMINAL ADJUDICATION IN THE SHOSHONE-PAIUTE TRIBAL COURT, FOR ANY INFRACTIONS OF THE CURRENT DUCK VALLEY HUNTING AND FISHING ORDINANCE, AND EXISTING FEDERAL STATUTES."

While fishing and camping here on the Reservation, we encourage you to enjoy the large numbers of bird species. Bring binoculars to see different water and shore birds at the lakes. You may also drive around the reservoirs to see more birds but please stay on the main roads.

Please remember that your stay here is a privilege. Understand that the area is governed by a sovereign body and respect for our land is critical.

Please be extremely careful with campfires. Ensure that campfires are attended at all times or fully extinguished when not watched. The local Fire Department may put into effect burn bans or other restriction at their discretion.

Please help us maintain the beauty of Duck Valley by cleaning up after yourself. Please pick up and throw away your trash in proper areas. Do not litter.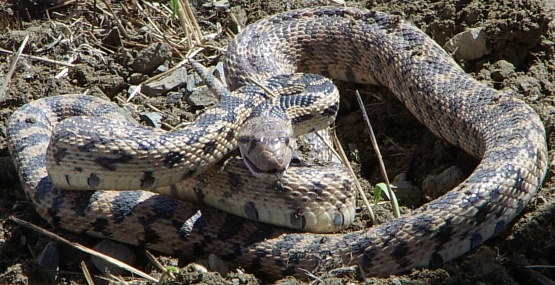 Snakes such as rattlesnakes, gopher snakes, racers, and garter snakes are common from late spring to late summer. Be cautious where you walk and keep your pets safe. If you encounter a snake, remember that it is more afraid of you than you are of it. Just leave it alone and back off slowly.

Please be considerate of others by keeping your pets on their leashes and cleaning up after them.

Cell phone coverage is currently available on the Reservation. However, please be aware that if you have an emergency and call 911, you may be connected with Elko County Dispatch instead of being connected to the Owyhee Police Department, depending on your cell phone service carrier. Please inform the dispatcher of your location so they can get you assistance. If you need assistance or an emergency arises you may contact the local emergency services at (775) 757-3624 or going to the police station (in Owyhee) and/or talking to one of the game wardens.


Enjoy your visit to the Duck Valley Indian Reservation as guests of the Shoshone-Paiute Tribes

Shoshone-Paiute Tribes
Fish & Game Department
P.O. Box 219
Owyhee, NV 89832

Office: (208) 759-3246
Toll Free: (800) 761-9133
Fax: (208) 759-3248
Email: This email address is being protected from spambots. You need JavaScript enabled to view it.
http://www.shopaitribes.org/spfish