Shoshone-Paiute Fire Management
The Sho-Pai Fire Department is dedicated to the protection of the Duck Valley Reservation and surrounding areas. We specialize in wildland and structural fire suppression as well as all-risk management which include search and rescue, vehicle/building extrication, hazard materials response, and natural disaster events. There are 14 volunteer firefighters on call 24 hours a day and 365 days a year. The Department is under the Tribal Administration and the Tribal Emergency Response Commission. We also sponsor (2) Type II Initial Attack Wildland Fire Crews during the summer fire season as well as (4) camp crews. Total personnel under Fire Management is 98 employees.

We are committed to our community members to be trained, equipped and ready to respond to emergency incidents. Safety is our top priority.
---
Mission
To make the Duck Valley Reservation residents, communities, Tribal government, and businesses less vulnerable to the negative effects of wildland and structural fire. To respond to fires, wildland or structural, to maintain fire safe facilities and residential homes, to maintain resilient landscapes and creating fire adapted tribal communities. To effectively administer fire hazard mitigation grant programs, hazard risk assessments, wise/ efficient fuels treatments, and to coordinate mitigation policy through federal, state, regional, and local planning efforts. Our combined prioritization will be the protection of people, structures, infrastructure, economy, and unique ecosystems that contribute to our way of life and to sustain the local and regional economies. Institutionalize and promote a reservation-wide wildland fire and structural hazard mitigation ethic through leadership, professionalism, and excellence, and education leading the way to a safe, sustainable Duck Valley Reservation.
---
History
The Sho-Pai Fire Department was created by Shoshone Paiute Tribes resolution #96-SPR-84 combining the wildland and structural/volunteer programs to operate as one department. The Department provides the sole fire protection of the DVIR and surrounding areas through mutual aid and cooperation agreements. The primary protection area of the Fire District is the DVIR itself (approximately 454 square miles) and private ranches surrounding the reservation. The breakdown of the DVIR alone is 290,000 protection acres, 590 structures and a population base of 1,800 people, a large number of which are elders over the age of 65 and children under the age of 14.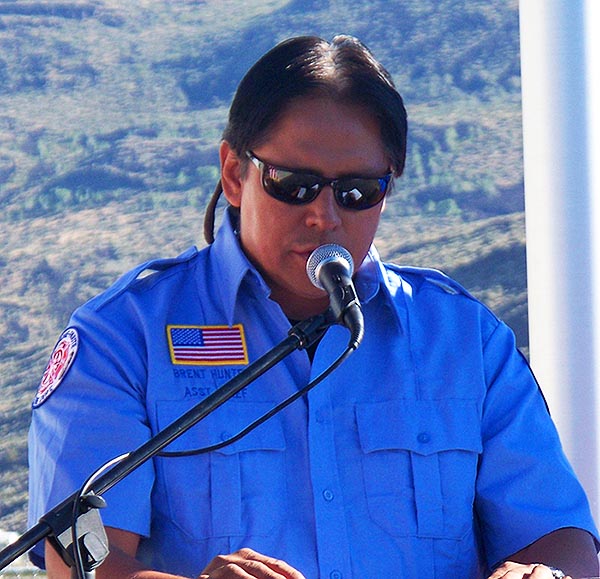 Because the area is predominantly rural and has an agricultural based economy, a high number of structures are spread out through the central valley of the reservation with a high degree of wildland interface. The majority of structures on the reservation are located in three (3) subdivisions/towns and two of these located 4 miles from the fire station. The town of Owyhee is the primary subdivision for activities and gatherings and contains a hospital, police station/correctional facility, post office, the Owyhee Combined Schools, Phone Company, enrollment/education offices, Seniors Citizens Center, Great Basin Community College, Owyhee Cafe, day care center, Tribal Courthouse and the community center. Most structures are residential but many are important tribal governmental institutions with intermixed commercial buildings. Adjacent to the boundaries of the DVIR are large infrastructures that pose hazards to the Tribes. These include United States Air Force Training Range for advance weapons training for fighters and bombers, a large natural gas pipeline, and a 150 foot arch gravity irrigation dam directly upstream of the DVIR.

Permanent staff are cross-trained in structural protection as well as wildland suppression. In 2015, the Shoshone Paiute Tribes wildland fire crew is 50 years old (first BIA supported crew in 1965).
Contact Numbers:
Vacant Fire Chief
Phone: (208) 759-3100 ext. 
Guy Dodson, Jr. Fire Management Officer / Assistant Fire Chief
Phone: (775) 757-2473
Email: This email address is being protected from spambots. You need JavaScript enabled to view it.